NickelB celebrates 700 runs, June 2018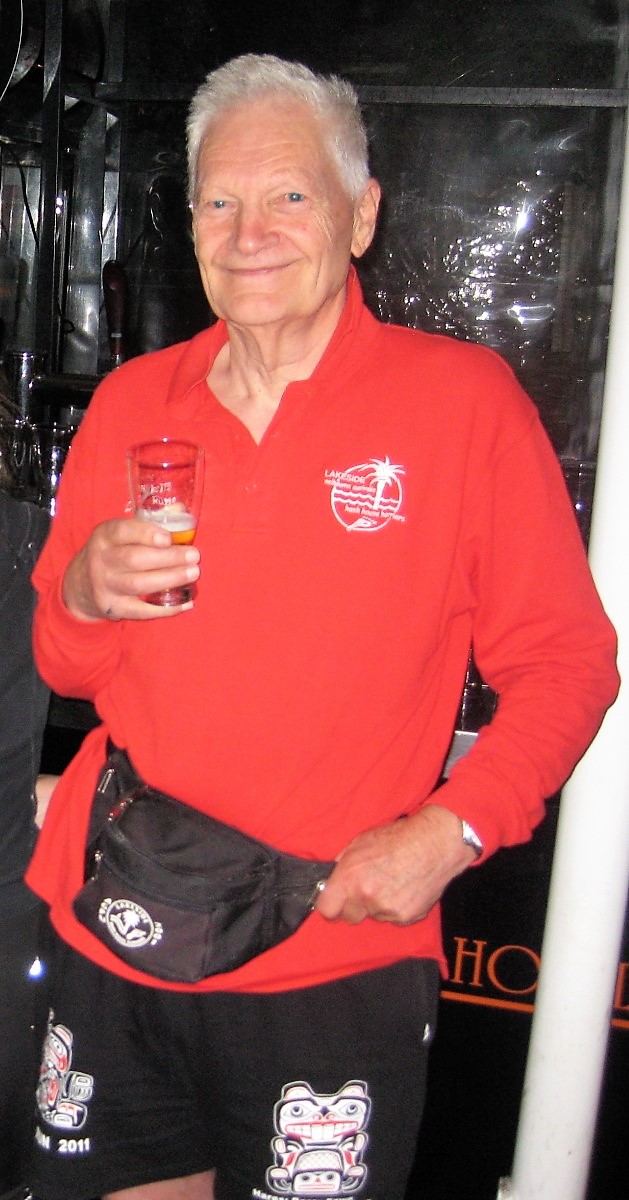 Nickel B, despite being Tasmanian, has achieved great things including recognition for his 700 Lakeside runs at the recent AGPU. But he had a hash life long before Lakeside.
Nickel B who is an engineer, spent many years working in Asia and the Pacific. Nick first hashed in Jakarta in the 1970s, but his mother hash was Honiara in the Solomon Islands where he was GM. He was named in Malaysia at the Kedah hash. He also ran with Malaysia's Tanahmerah hash as well as Tawau in Sabah. Malaysians pronounced his first name as Nichol-arse so he became Nickel Bottom. When he ran with the Bangkok hash, the lady runners liked his bottom so much, they voted him the best bottom. Upon joining Lakeside his hash name transmogrified to Nickel B.
Here is Nickel B's description of his very first hash run:
The first Hash I ran on was the Jakarta Hash in 1977. I remember this as I was a little nervous about being able to keep up not being a good runner. When I went there the group could be roughly divided into greyhound types doing stretching exercises and slobs smoking and drinking beers. I thought there was no chance of keeping up with the greyhounds but I was fairly confident of being able to run as fast as the slobs so I decided to position myself between the two groups. We had not gone all that far when the slobs branched off from the trail and ignoring my rather frantic cries of On On wandered off trail. By this time the greyhounds had vanished so I had no choice but to follow the trail alone. Whenever I consulted any villagers they all told me to run faster. Finally a late starter caught up and we finished the run together and much to my surprise there were the fat slobs still drinking beer and smoking. The person who had brought me had not told me about short cutting. Being a keen runner such things would not occur to him.
Covering a period of 40 years, Nickel B has run with nine hash clubs for a year or more:
 Alor Star Hash in Kedah,
 Kota Baru Hash in Kelatan,
 Tawau Hash in Sabah,
 Vientiane Hash in the Lao PDR,
 Petaling and Mother Hash in KL,
 Bangok Mens Hash,
 Bangok Ladies Hash in Thailand,
 The Full Moon Hash,
 Lakeside in Melbourne.
Nickel B has been GM of the Honiara hash, Vientiane hash, Full Moon hash and Lakeside hash in
2014. Does this put him at the top of the league table for GM-ships?
It was while running with the KL Saturday hash in the early 1990s that he met Lotsa Fun.
Nickel B has been married three times.
Firstly he married Lotsa Fun in a Chinese ceremony where he was required to donate a pig, a rooster
and a bottle of whisky to the bride's family. Lotsa's mum immediately cooked up a delicious pork
and chook terrine in a whisky marinade. (She knocked off the pig and the chook first). (And possibly
the whisky also).
Secondly he married Lotsa Fun in a registry office.
Thirdly he married Lotsa Fun in a church. Lotsa Fun was actually Irish and she wanted 'to be sure, to
be sure, to be sure'.
Nickel B, the fighter
Talk about turning a lemon into lemonade. When Nickel B, Lethal and Astro got into a fight at
Codpiece's South Melbourne run in 2016 and Nickel B broke his nose doing a face plant and was
rushed to hospital, he saw it as a restructure opportunity. He wanted a George Clooney nose.
                                       
NickelB's nose before the operation and the new NickelB nose post operation.
If you've ever had a nose job, you've got the problem of hiding those tell-tale post surgery
scars from your friends, but Nickel B nailed it.  No-one guessed.

Nickel B and Romance

Over the years many LSH harriettes tried to worm their way into Nickel B's heart. Egg & Bacon Pie tried hard and is still really trying.

This cheeky minx with a thing for powerful men said she would do whatever it took to become GM the following year.
This racy harriette thought the way to NickelB's heart was through his right earlobe.

But one girl won his heart just by being lotsa fun.

Nick the Natty dresser
Sometimes Nickel B is a stylish, elegant dresser and sometimes he's not.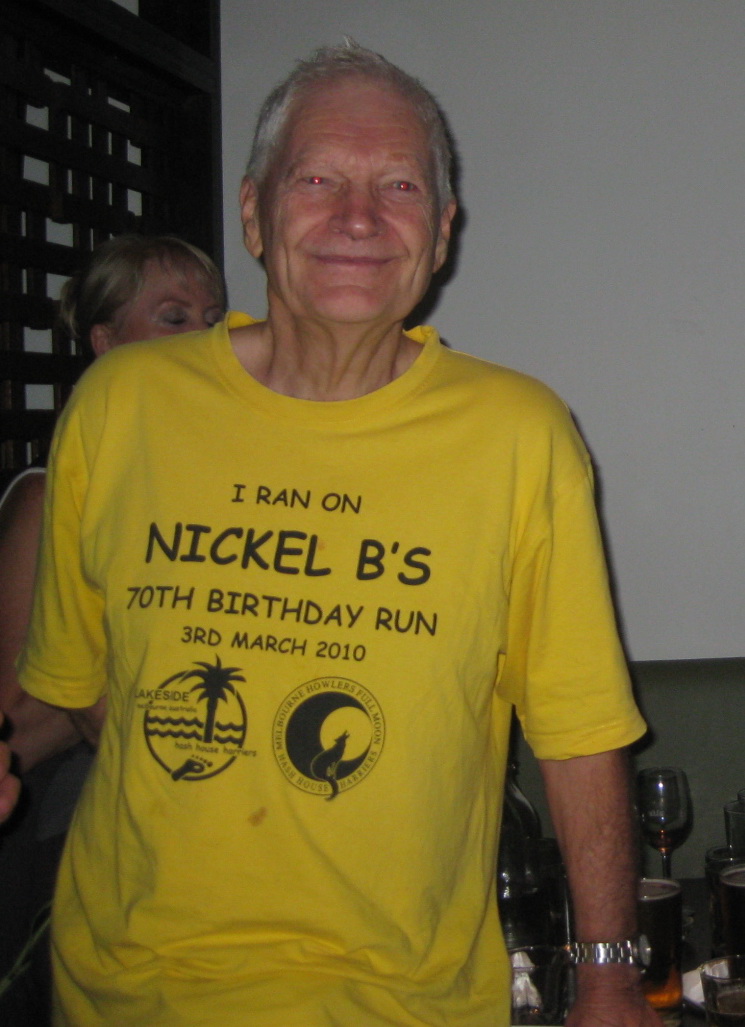 "I ran on Nickel B's 70th birthday"?? I or him? Would otherwise be 10/10 for elegance but reduced to 5/10 for the confusing sense of self.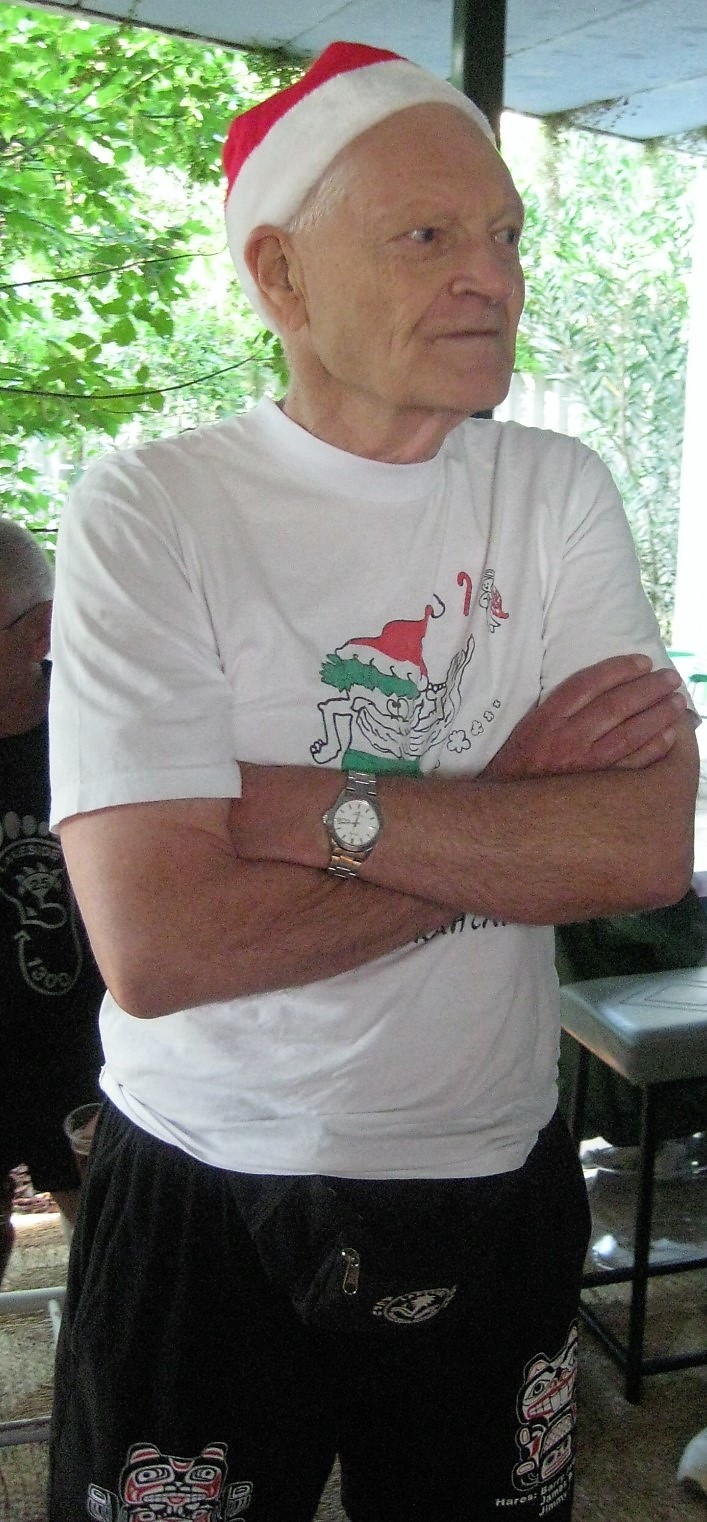 Then there was the Christmas party where Lotsa Fun insisted that Nickel B wear the full Santa suit. He was having none of it. Not wearing Santa suit = -10/10.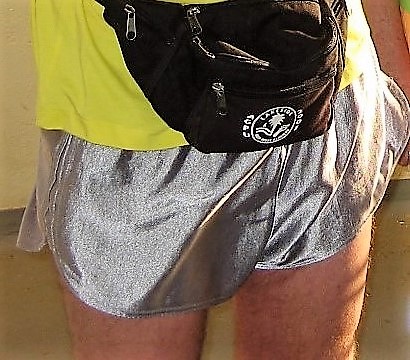 We Lakesiders didn't need our winter torches, we just followed Nickel B's glow-in the-
dark, iridescent shiny shorts. Shiny shorts = 8/10 for health and safety.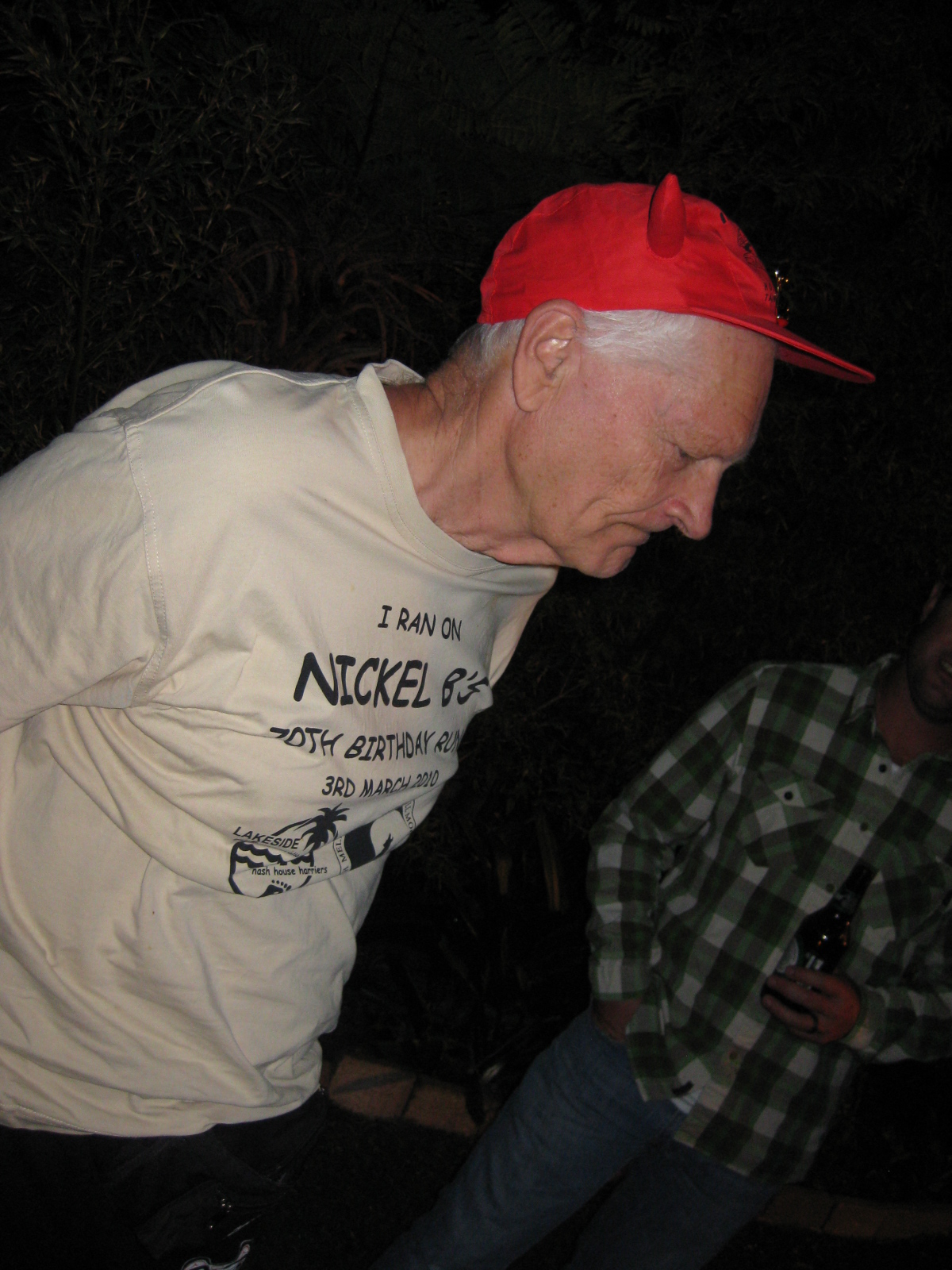 Nickel B knew that one day this terrible photo of him wearing this ridiculous hat would surface =1/10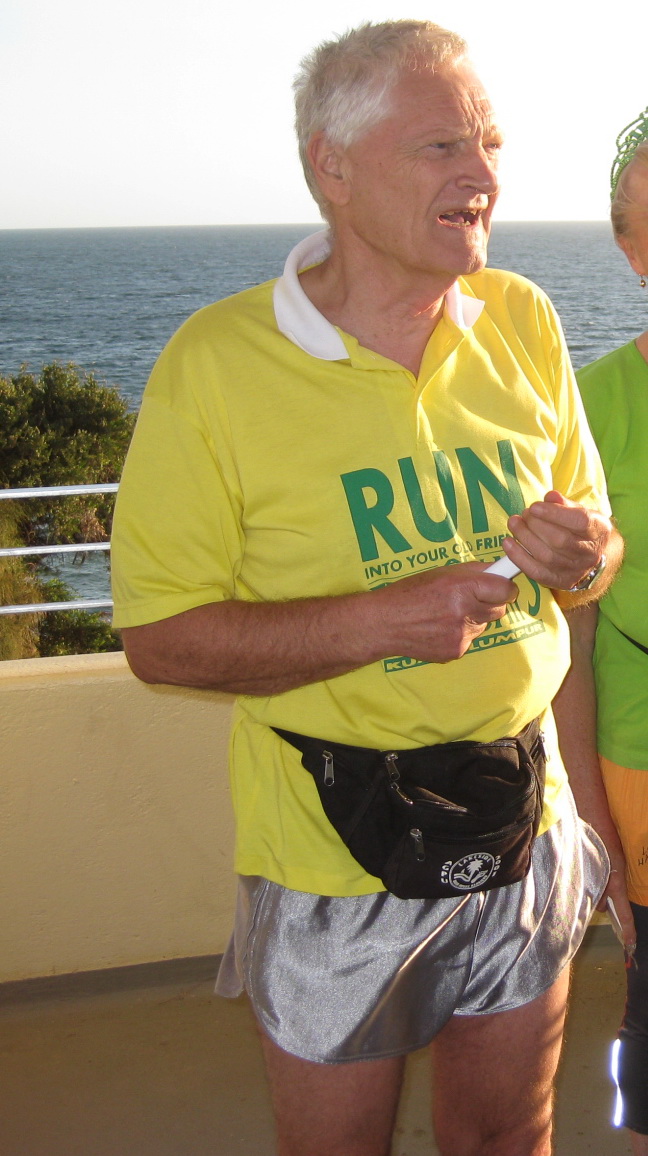 Hash gear as an aide memoire = 5/10

Nickel B looking splendid = 10/10