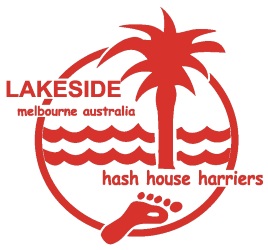 Originally started in Albert Park we run (and drink) from parks, pubs, houses, etc anywhere within a 30 km radius of Albert Park – except when it is further away.
We run on a Wednesday evening officially starting at 6:30pm but unofficially at 6:45pm – check out the Run Sheet and come along!
If you are new to hashing we generally refer to it as cooperative running rather than competitive running – in fact doing the latter will get you an extra drink in the circle after the run.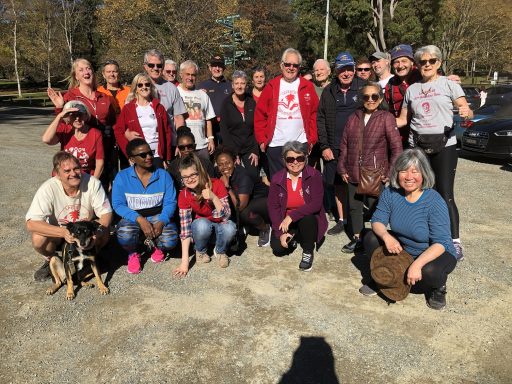 Annual Magazines
Have a look at what we have been up to by browsing our Yearbooks:
2022 AGPU
Come and join us at the Hampton RSL, 25 Holyrood Street, Hampton on the 13th July 2022 starting at 6:30pm. Pythagorarse is being booted out – who will the lucky replacement be?
More details on the flyer: LH3 AGM Flyer 2022
Lakeside's 2000th Run
At last – regardless of the COVID-19 lockdowns we have reached our 2000th run (actually it was our 2004th, but who's counting…..)
The run report and photos can be found here
Rules and Traditions
Rules – There are no rules … just Traditions:
The Grand Master (GM) is always right
When the GM is wrong, Rule 1 applies
The penalty for any transgression is one Down Down, when the offending hasher will drink an appropriately sized refreshment to the accompaniment of a Hash song
Hash songs are a part of the celebration of Hash. They usually consist of a short verse (of a bawdy nature!) with an encouragement for a down down at the end. All members of Lakeside Hash are encouraged to know at least one song by heart as the GM may call on you to lead the pack with the joy of a Hash song. Many Hash songs can be found here . The inability to come up with a song will be awarded with one Down Down
The GM, with help from the Sergeant at Arms, will check for proper behaviour before, during, and after the run and between runs. It is left to the discretion of the GM to whether they will ignore any offence or make a charge during the "circle"
Any one having knowledge of a transgression by a fellow hasher may make a Charge during the Circle at the GM's discretion. A charge may be defended with another later charge – but there is no 'RIGHT OF REPLY' – a Down Down will result, either way, unless the GM decides otherwise
After completing at least three runs a new hasher will be given a Hash Name. The hasher will subsequently be known only by their hash name during the run and subsequent activities – Failure to observe this rule will result in a Charge
At regular intervals, every hasher is asked to set a run by the Trailmaster. Since being a Hare is a great honour, refusal is neither anticipated nor accepted. If the run is considered passably good the Hares will be awarded a score and a Down Down, if the run is considered to be below standard for Lakeside HHH the Hares will be awarded a negative score and a Down Down with shame (i.e. on their knees)
Short cutting is allowed, being caught short cutting is a chargeable offence
The Lakeside Hash has certain standard forms of communication:

When on the trail (either chalk, paper or flour), shout "On On"
When confronted with a check, branch out and shout "Checking"
When confronted with a False Trail , shout "False Trail'
When the trail has been found again, shout "On On" (or "On Back" if communicating to hashers checking other possible routes)
Shout obstacles, e.g. "Hash Log", "Hash Fence", "Hash Car", etc

Stationary checking is a skill that is usually mastered by older hashers. However, a refusal to check when so requested by the GM will result in a Charge
The basic idea of Lakeside Hash is to have a non-competitive run through the local habitat in order to acquire a thirst for beer that should already exist! Aggressive running is therefore a serious offence
The GM can add, delete, or change any tradition at anytime. No public announcement will be deemed necessary and any transgression will still result in a Charge
The Hash is democratic and fair but will obey the GM in all matters
More About Us
Our runs are usually 7-10kms and we always have a shorter (3-5km) walkers trail for those who are injured or not capable/interested in running.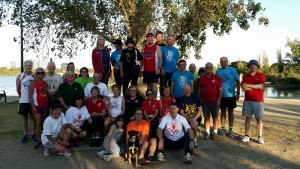 Hashing is a global phenomenon that has swept the world (sort of). To find out more you can visit the Mother Hash Site.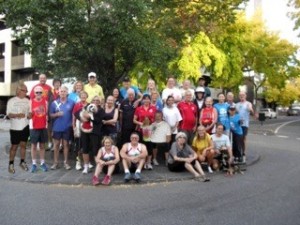 Someone once thought that Lakeside should have an official song. It was thought that it could echo with the sounds that were once heard around the Lakeside Oval (now defunct). Here is what they thought it would be like.
The Lakeside song: Click here to play
Beer, Beer, cherish the sight,
Lakeside will run by day and by night,
On to the check and to the check back
We'll just keep running down the track
Though the storms be great or small
We'll get back to the On-After all
Drinking, talking, running, walking
Lakeside Hash Harriers!

We don't always run in Melbourne
For runs 1660/1661 we had a wonderful weekend at Mt Baw Baw. We had 15cm of fresh snow the previous time we were there in October 2013 – this time there was about 5cm on Sunday morning.
The photo below is from our October 2013 weekend – complete with a once every 30 years plague of Bogong Moths!

This photo was taken mid-March 2015 at the GAFIA Ski Lodge
working bee – beautiful sunshine all weekend.
Anything is possible!

What to expect at a run
Lakeside runs every Wednesday, regardless of the weather, at 6:30pm (ish). At this time, the GM calls the rabble to order and asks the hare to give the pack a brief description of the run before sending them on their way.
The run follows a trail which has been marked by the hare using chalk arrows or flour. Most hares have trouble with this concept and the trail is hard to find. Everybody should call "On-on" as loudly as they can whenever they see trail markings. This makes things easier for those running behind.
At various points on the run, you will find checks which are marked with a circle. A check is a break in the trail, the run can continue in any direction from a check. The first hashers to arrive at a check search for the trail giving the slower runners a chance to catch up and have a bit of a breather.
False trails or on-backs are marked in various ways depending on the hare. They are usually a cross or an arrow pointing back along the trail. If you get to one of these, you've come too far and need to turn around and find trail again. If all goes well, after about an hour everybody arrives back at the start, more or less together.
After the run is out of the way, the serious stuff starts. The Grog Master brings out the beers and the hare serves a gourmet meal. Then the GM calls the circle. A hash circle needs to be experienced, it cannot be described. In the circle, visitors are welcomed, good deeds are rewarded (very rare) and discretions are punished all with a down-down. The circle is the highlight of the evening and is what hashing is all about.
When the circle is over, the stayers finish off the beers and everybody finds their way home.
Don't wear new shoes unless you are prepared to drink out of them.
How to Join Lakeside H3
To join LSH3, you must be either male or female. Some other hashes are single sex clubs but Lakeside is desperate and will take anybody.
If you fit the above criteria, just show up at a few runs. The hash isn't for everybody so you'll want to try us out before you commit yourself. If, after 2-3 runs, you think we are a good bunch of people and you want to keep running, you can consider yourself to have joined.
Costs
Running hash is cheap! There is a normal run fee to cover the run and the down downs in the circle. Your first run is FREE, after which the normal run fee applies. If you decide to join Lakeside, then the normal run fee is $0 (i.e., free). Subs are $50 per year – the hash year runs from one AGM to the next with AGMs held on or near the Wednesday after the Queen's Birthday long weekend.
Payment of subs not only entitles you to a discount on weekly run fees but also subsidies on big events such as the Christmas run and any special runs.
You can pay your subs directly to the Hash Cash at any run, or by bank transfer to:
BSB: 633-000
Account: 102681129
Include your Hash Name in the transfer comments
Meals and Drinks
Runs from a park or somebody's house will cost $7 for members who have paid their $50 subs and $12 for non-members. This is an all inclusive amount and covers the run and food. Beer, cider, soft drinks and a limited amount of wine are available for very reasonable costs (beer for the down downs is included in the run fee)
For Pub runs there are no run fees – Lakeside covers the down downs; hashers pay for their own meal and drinks.
Special Runs
Awards are presented to members after completing a number of runs. Each hasher is expected to keep track of how many runs they have done by signing the run book. The awards we have so far are:
50 runs: Certificate and photo montage.
100 runs: Engraved pewter mug or goblet.
200 runs: Embroidered Lakeside item of clothing such as a polo shirt*
300 runs: Embroidered Lakeside item of clothing such as a polo shirt*
400 runs: Embroidered Lakeside item of clothing such as a polo shirt*
500 runs: Embroidered Lakeside item of clothing such as a Fleecy Top*;
Free Food/Drinks on the night;
Half-price membership for the following year
600 runs: Embroidered Lakeside item of clothing such as a polo shirt*
700 runs: Embroidered Lakeside item of clothing such as a polo shirt*
800 runs: Embroidered Lakeside item of clothing such as a polo shirt*
900 runs: Embroidered Lakeside item of clothing such as a polo shirt*
1000 runs: Certificate with photo montage;
Item such as a Port Barrel;
Special Run/Event;
Free membership for the following year
* An alternative item of clothing may be chosen by the award recipient but Lakeside will reimburse costs to the value of an embroidered Lakeside polo shirt (or fleecy top for 500 runs)0