After 500 Runs Lakeside has worked out "GABRIELLA" stands for "Got A Brilliant Run….Include Expensive Lightrail…..Lakeside's Lethal".  
Congratulations Lethal on 500 Runs with Lakeside and here's to the next 500.
Notable returnees were the speedy traveller Mother Brown who took in NZland's Sth Island in half an hour and got the ferry home in time for tea, GG, Mais Oui (Pseudo look-alike) until the genuine Hasher popped up.
Stand-in Sergeant Kling On charged E&B for 707 runs or was that for travelling in obsolete jet aircraft?
GM asked Pack to raise a glass for our much cherished Hasher Codpiece who came off second best after tango-ing with a canine.  Speedy recovery Coddy.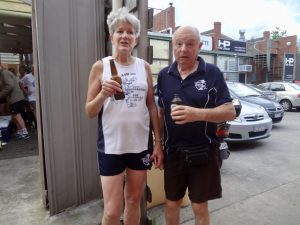 E&B and Mother Brown are amazed the Hare's nowhere to be found