A cool autumn night saw Lakeside Hashers congregate in St Kilda and Udder greeted us in the foyer and whisked us up to one of his cityside garrets for a meet and greet and then Udder quicklythrew us out with a quick spray on how the "House of Udder" always presents top runs.
We headed north and then became confused – the wise counsel of Astro said that Udder "always heads to the beach here" and there we followed Nickel B's dignified gait and headed for some beachwork and then south towards the Baths and I mentioned to Chicken Dicken that we were here last week and that set him off on a rant about how we didn't follow trail – Life is short, and I let him run off into the distance.Then there was Luna Park and Cheesecake thought it looked marvelous – but I could only draw on my childhood experience of fairy floss and vomit. It is here that I then became a bit confused in the dark and then the magnificent Pog came through with record of this great hashing journey: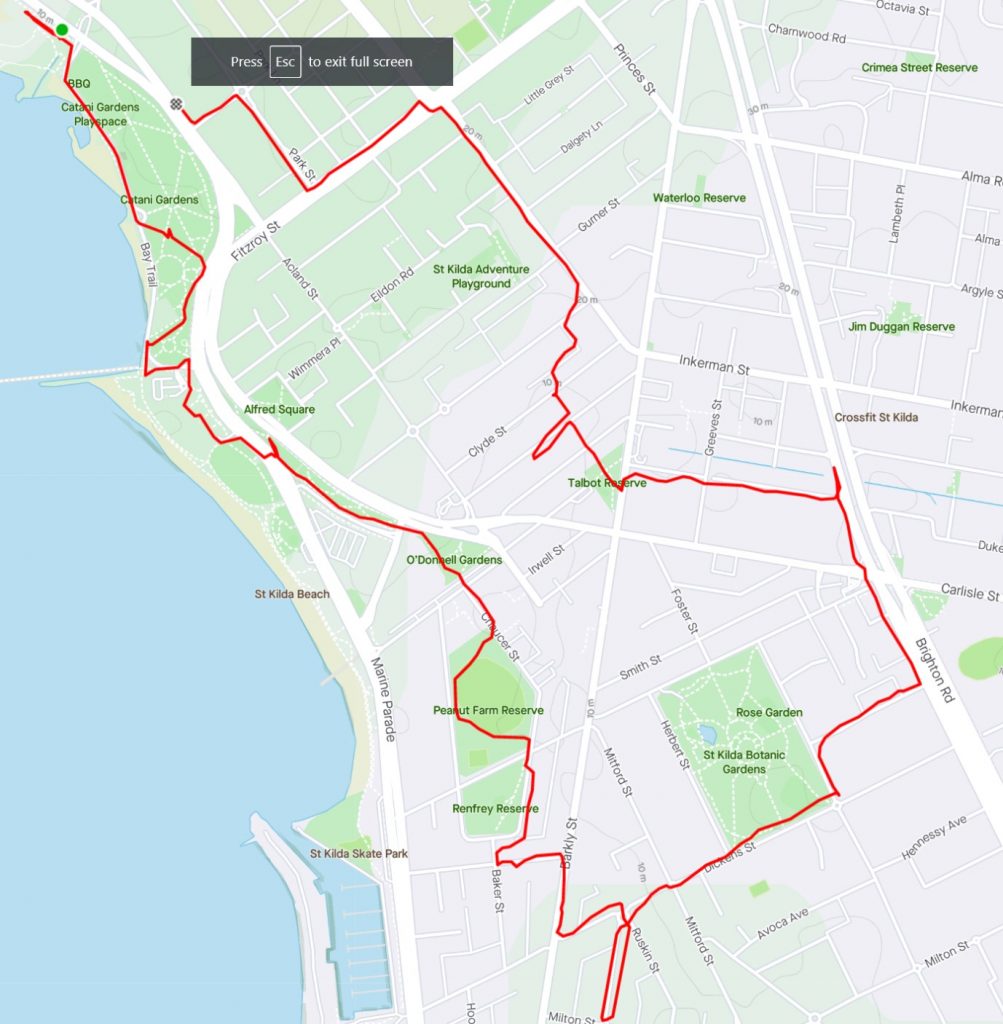 Shiny Dick put in what could only be called an "executive appearance" but Whippet gave his all. Kokup did his usual great check marking. Being a bit of slack hasher, I supported the running pack from the back and spent some meaningful time with the walkers and missed out on what must have been a very entertaining loop to the south of the course. Fortunately, there was a runner/walker split and I teamed up with the dynamic "Sarah" and "Neil" as Pointy and Hooray-CO steamed off into the distance.
Back to the on home and we gratefully squeezed in to the warm 1st floor flat and some cool ales were consumed (Thanks Pointy) with some of Gargoyles cheesy spinach dip. An early nosh was called and there was plenty of meat-free corned beef and little pies and some Sausage Rolls that had been sacrificed to the fire gods.
The GM called us in and reports were given by someone and Punch. The highlights were the high scores 1990/1996 and the reference to "Chicken Dick" by Punch.
E & B then went on some rant about Down Downs and it wasn't her fault and called attention to some great away runs this and next week. There was some banter and we then left the room with a sense of goodwill and a great hashing experience.
Thank you hares … thank you Keg … a top run … On On PYTHAGORARSE