Run # 2000                             Date:  19 May 2021
Hare:  Pythagorarse Venue:  North Port Hotel, Port Melbourne
What a wonderful gathering of old and new Lakeside hashers and guests from other local clubs.  We had 69 people which included ex-GMs Cyclone, Astro, Kokup, Sweaty Box, Cooch, Cut Loose, Shit Off a Shovel, It Wasn't Me, Flem, Klingon, Prince, Cheesecake, Mummies Boy, E&B, Udder, Titillator and Deep Throat.  Some golden oldies came out of the woodwork included Lounge Lizard and Clanger, Irish and Tangles.  It was great to see our pre-COVID-regulars back to celebrate with us including Kokup, Punch & Rigby, Mothball & Tiger Moth and Swingers.  And we welcomed visiting GMs and fellow visitors from Ballarat, Melbourne Ladies, Western Suburbs, Prohibition, Melbourne and Royal Peninsula.  And of course it was great to see so many of our Lakeside regulars and not-so-regulars come along to celebrate too.  Bloody COVID has kept many Lakesiders either away or irregularly attending and it was a like a great family reunion to have us all together again in the one room.
Pythagorarse set the run.  He didn't question the GM at all when she suggested the drink stop should be under the shelter of the Graham Street overpass and that it would be nice if our home ground of Albert Park Lake could be included in the run…didn't question it at all; and perhaps didn't reccie it either as he laid a very long run and apparently even longer walk.  I'd like to think that all was forgiven when the hashers eventually reached the drink stop where they were welcomed with Klingon's gluwein, beers and a scrumptious spread of comestibles that could be eaten one-handed that included E&B's cocktail sandwiches and red& white themed things on toothpicks, Deep Thoat's fancy fruit wrapped in prosciutto and Peanuts' lovely cookies.  Thanks to Peanuts and Deep Throat for contributing to the nibbles.  And thanks to our youngest Lakesider, Addon, for keeping hot and pouring the gluwein.  It would've been the longest drink stop in the history of Lakeside hashing as we waited patiently for the runners and walkers to arrive there.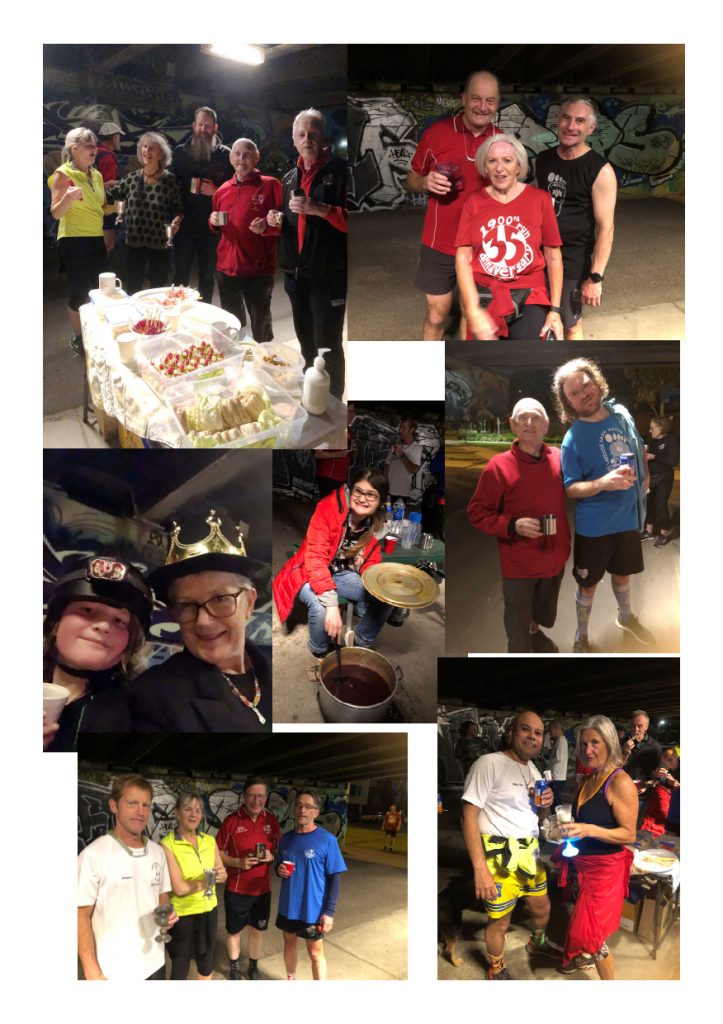 Back at the pub, dinners were served to everyone in double quick time with only one mis-hap occurring when E&B ate Titillator's meal.  Udder called for the circle to start by welcoming visiting GMs and all those mentioned above as returnees etc.  Clanger got excited and tried to drown Tangles in her DD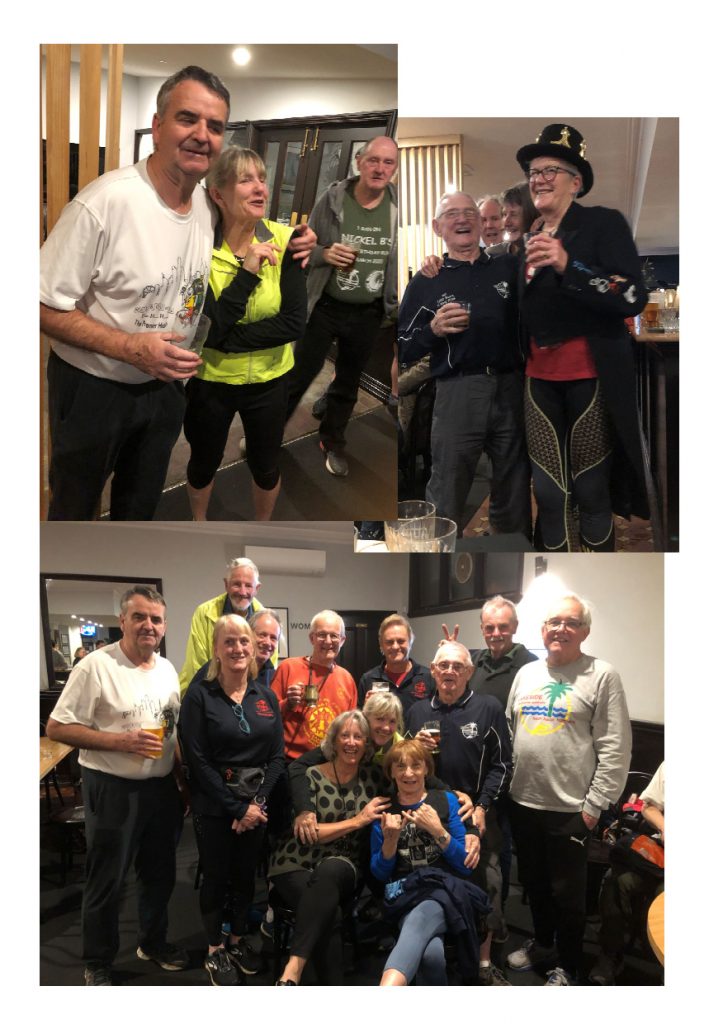 I can't remember anything else other than being one of the last to leave, taking advantage of the 109 just outside the door and catching that with Son of Skala who had a lot further than me to travel on it and would've got home around midnight.  Hope he made it.