It was fitting that 2 Bottoms was at this Run as it was all about the farty jokes.  Blame the over-engineered loo that played havoc with poor Hashers.  It refused to open its doors when needy folk were desperate to enter but then swung open those doors at the most inconvenient moments.  And please don't mention the hidden loo paper.  In fact the whole evening was conducted to the sounds of the aforesaid contraption going through a never-ending cleaning cycle. Engineers charged for being much too clever.
Add On gave her first ever Walk Report but ended up drinking as the "Old Fart Accuser".  E&B gave the Run Report but being one of  those Ole Farts she said she couldn't remember, but it was a great Run through lovely Parks.
3 new members signed up: Lost Sausage, Libido & Mother Brown.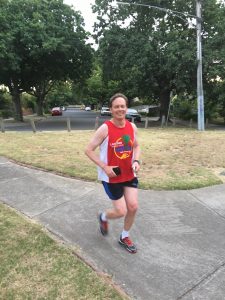 Must be something in the air as 2 Bottoms is caught running with his eyes closed.