Run No 1887 was a joint run with Western Suburbs at Quick Lay's local, the Temperance Hotel.  Pack of 35 Hashers enjoyed a canny Run that took in every carpark and graffitied alleyway in the area.  Circle got interrupted by the arrival of the Parma Specials.  Couldn't hear a bloody thing so photos tell the story……

Congrats Spread On reaching 100 Runs with Lakeside.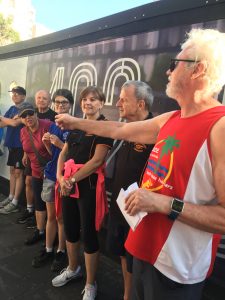 Power-crazed by his GM ship, Astro tries to decapitate Western Suburbs GM Eat Me & former GM Hard Core.