HARES:   Gerbils, Whippet & Colours
VENUE: Bawarchi Indian Restaurant, Moorabbin.
VISITOR: Alicia.
RETURNEES: GG, Hooray C.O., Lethal, Chad.
WALK REPORT:  By Lethal                                                                Scored 575/598
The walk was quite interesting and reasonably well marked. I had a phone call from the Commonwealth Bank which has been chastened enough to know that their customers are not happy. They found they have a lot of customers just North of Melbourne University, so they are going to hold a brunch at the Melbourne Cemetery to help them keep their fingers on the pulse, even though their customers don't have one. Trail meandered around a lot, but there was a guy who kept turning up on the trail saying "This way, this way" so that nobody would get lost – except for the stragglers who did not emerge from the park leading to the Moorabbin Football Ground. The rest of us had walked past a car with its windows down and lights on, a bit strange. Yet continued through the car park singing "When The Saints Go Marching In".  We stopped at the street to wait for the others to catch up.  After much calling of "On on", Gargoyle ran back to find that Gerbils had finished unpacking her car, had set up the Drink Stop and the dawdlers and all the Runners were there enjoying punch and chips. Then just a short walk back home.
RUN REPORT: By Klingon                                                                 Scored 569/598
It's the first time we have been here and that's a good point. Secondly, there's a very good bar next door and that's also a good point. We set off through the station and across the highway. Trail led around several streets around an oval and through a park and then we got to the only hill which was a bridge over Nepean Highway with a HH in the middle.  Then there were more streets, another park and eventually we got to the St Kilda FC training ground where there was a good Drink Stop.  From there it was on home.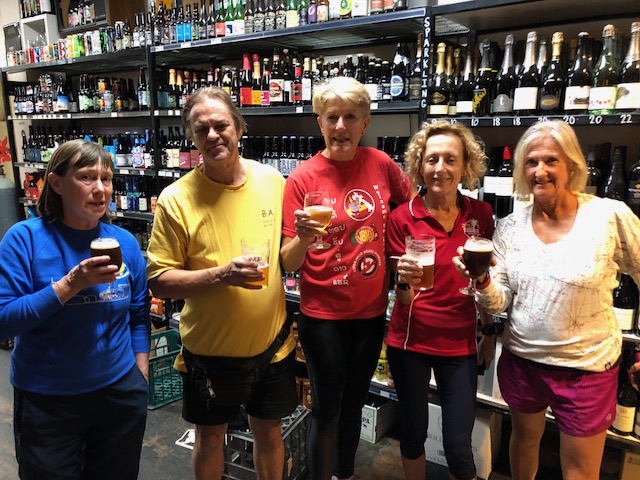 GM Kokup's CHARGES:
VISITOR – Alicia.
RETURNEES – GG, Hooray C.O., Lethal, Chad.
HARE – Gerbils, Whippet & Colours
Cheesecake – Tickling the GM's bum on the run is not permitted.
Klingon – Not game to let Dragon off the lead when approaching the Dog Obedience Oval with about 200 dogs in training.
Klingon, Hooray C.O., Pseudo & Gerbils – Drinking at the bar up the street instead of from the bucket, so poor old Point Post has to carry more grog back home.
Jarrod – Found SCB while looking for trail and did not know what it was – well he was it.
Sergeant Prickly Bush and Charges from The Floor
Palindromic & Special Runs – Peanuts 151, Astro 535, Punch 344 and Prince 644.
Prince – Running straight through On Backs, getting caught in a fence.
Udder Idjit, Whippet & Gargoyle – Travelled to the run by train.
Lethal – Walked his right arm into a fence and said he didn't feel it.
Point Post – Told Prickly Bush to get on her knees.
E&B – Also drinking at the bar up the street.
Prince – Stood on top of a Check saying "There's no trail."
Lotsafun – Confused by the recitation "There was movement at the Station for the word had passed around" claimed: "NickelB didn't teach me."
NickelB – For not teaching Lotsafun about the Man from Snowy River.
Kokup & Punch – Celebrated their 45th wedding anniversary in Queensland.
Gerbils – Made us run past the Moorabbin massage parlour.
E&B – For thinking you could "get a normal massage there."
NickelB – Guilty in the past of having served small drinks. Now he is using smaller cups as well!
Cheesecake – Not having enough to do and is now researching E&B's family tree for her.
Whippet – continually claimed he wasn't the Hare, but kept turning up to show us the way.
Chad – Didn't walk, but that's okay.
E&B – No Balls lookalike (when they wear their dirndls for OktoberFest) is moving to Adelaide for work. wish you all the best. Keep those happy feet Hashing.
Prickly Bush – Slowing down so Swingers can catch up with her.
Whippet – Presented with a copy of The Guardian, showing Best dog in Show, a Whippet, at Cruft's in UK.
Kokup – Reading The Guardian.